Our Cape Cod House Rental is HANDICAP FRIENDLY
Is there someone in your family who has trouble walking or uses a wheelchair?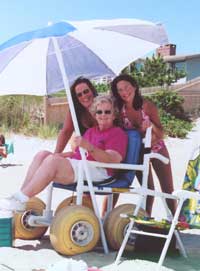 See why our Cape Cod Home Rental makes a difference!


First floor bedrooms & bathrooms.


Handicap ramp for access to the first floor.


Handrails on the kitchen door.


Handrails on the two first floor bathtubs.


A shower you can step into on the first floor.


The directory of disabled friendly places in the living room.


Harwich beaches with an "SC" have a sand wheelchair so Grandma or Grandpa can even go the beach!
Parents and grandparents agree: they can get around the first floor and get bathed easier! And, if they can't climb stairs, they don't have to!




• Ramp width to back kitchen doorway: 39"
• Back kitchen doorway: 26"
• Dining room doorway from kitchen: 27.5"
• Dining room to living room doorway: 30"
• Front doorway to living room: 29"
• Patio to living room doorway: 29"
• Hallway doorway: 30"
• Master bedroom doorway: 29"
• Master bathroom doorway: 28"

Come visit us at Harwich Haven!